Can She See At School?
Children use their eyes constantly throughout the day to read, write, view the chalkboard, work on computers, and play sports. The strain put on their eyes only grows as they get older. As they progress through school, the print in their books gets smaller, and the hours they spend studying increase. If parents don't get their children proper vision care, they can fall behind in every aspect of development. Here are five reasons why it's critical to get your child an eye exam every one to two years, based on their risk factors.
1 in 4 school-age children has a vision problem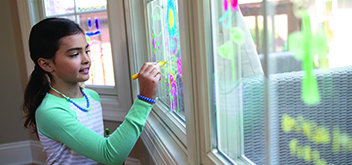 Children aren't always able to tell you if they have trouble seeing. If left uncorrected, certain problems could result in vision loss. Hence the crucial need for pediatric eye care. The earlier a vision problem is detected, the more likely the treatment will be successful. When needed, doctors can prescribe eyeglasses, contact lenses, or vision therapy.
80% of what children learn occurs through their eyes

A basic reason children's eye care is so important is that so much of their knowledge comes by way of their vision. When certain visual skills don't develop or they develop poorly, learning is difficult and stressful. Children may avoid reading and near visual work, or attempt to do the work anyway but with less attention to detail. Vision is about more than just seeing clearly. Children must also understand and respond to what they are seeing.
School vision screenings aren't designed to catch all vision problems

Up to 11% of children who pass a vision screening may actually have a vision problem that needs treatment. Even when a child fails they may not get the proper follow-up care from an eye doctor that they need. One study found that 50% of parents were unaware their child had failed a vision screening. An optometrist at Pearle Vision can provide primary vision care ranging from sight testing and correction to the diagnosis, treatment, and management of vision changes. They have licenses to practice optometry, which can include detecting certain eye abnormalities on top of traditional vision correction.
Children's eyes are constantly developing

Your child's vision can change without them or you even noticing it. That's why regular eye care for kids is important—it makes sure young eyes are on track and developing properly. If you notice any of the five warning signs of a vision problem (link to first article here) in your child, take them to see the eye doctor sooner.
Playing sports requires good vision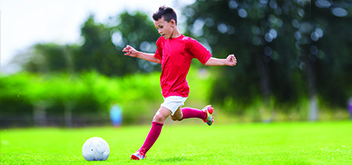 If a child consistently fails at a certain skill in a sport, like always swinging late in baseball or hitting the front rim of the basketball hoop, they may have a vision problem. Sports require clear distance vision, good depth perception, a wide field of vision, and hand-eye coordination. When necessary, the right eyewear can not only help improve sports abilities but also help protect children from avoidable eye injuries.
So much of a child's development requires proper vision, but they may not notice or tell you when they're having trouble seeing clearly. The only way to be sure your child's eyes are getting the care they need is to schedule regular comprehensive eye exams with a doctor.
DISCLAIMER: THIS WEBSITE DOES NOT PROVIDE MEDICAL ADVICE. The information, including but not limited to, text, graphics, images and other material contained on this website are for informational purposes only. The purpose of this website is to promote broad consumer understanding and knowledge of various health topics. It is not intended to be a substitute for professional medical advice, diagnosis or treatment. Always seek the advice of your physician or other qualified health care provider with any questions you may have regarding a medical condition or treatment and before undertaking a new health care regimen, and never disregard professional medical advice or delay in seeking it because of something you have read on this website. Pearle Vision does not recommend or endorse any specific tests, physicians, products, procedures, opinions or other information that may be mentioned on this website. Reliance on any information appearing on this website is solely at your own risk.