Safety Tips For Summer
4 Eye Safety Tips for Summer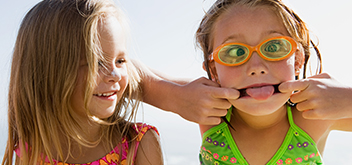 The time of year we've all been waiting for is finally here, and with all the fun outdoor activities, it's likely your kid's favorite season too. While spending warm sunny days outdoors, it's important to take caution. Summertime often comes with a host of potential eye hazards, especially for kids, but more than 90% of all eye injuries could be prevented by the use of proper eye protection. Following these necessary precautions will help keep your child's eyes safe and healthy.
1. Stay cool with sunglasses.
Most people are aware heavy exposure to UV light increases the risk of eye damage and serious diseases such as cancer, cataracts, macular degeneration and sun blindness. But, did you know children are even more susceptible to this damage than adults? Not surprisingly, they take in an estimated three times the yearly UV exposure of the average adult. Additionally, their ocular lenses are more transparent than adults, exposing them to a greater degree of short wavelength light. This is why it's imperative for children to wear sunglasses. Make sure when choosing sunglasses to always purchase lenses with 100 percent UVA and UVB protection for maximum safety. If your child wears glasses also be sure to get them fitted with a prescription pair.
2. Block the sun by wearing a hat.
Similar to sunglasses, hats also offer proficient sun protection for your kid's eyes. It's important to remember that even when it's cloudy, your eyes are still exposed to harmful UV light. Of course, the best combination for your child is to wear both sunglasses and a hat to make sure they are getting the best protection possible.
3. Apply sunscreen.
Your eyes aren't the only things you should be protecting from the sun. When sunglasses aren't an option, it's important to protect the skin around your eyes, specifically the eyelids. Most people who apply sunscreen usually avoid the area around the eyes. This is a big mistake. Up to 10 percent of all skin cancers, excluding melanoma, are found on the eyelids. Eye doctors recommended using a moisturizer with SPF (15+) protection for sensitive skin areas like the eyelids, as lotions and moisturizers are absorbed by skin faster than typical sunscreen. Another way to avoid irritation in sensitive areas such as the eyelids is to use a fragrance-free sunscreen stick or lip balm with SPF. This will keep your kid's eyes safe and happy.
4. Be wary of other hazards.
You can never be too cautious when it comes to eye health, as potential eye dangers can be anywhere. Irritants like sand, insect repellent, and chlorine can cause harm to the eyes. Additionally, popular summer gear—fishing poles, water guns, golf clubs—can also lead to injury, so make sure to be alert at all times.
As nice weather leads to more time outside, make sure to keep your and your kids' eyes protected. For more helpful tips and eye-opening eye health content, check out our Facebook page or YouTube channel.
Sources:
1. http://www.wsj.com/articles/eye-protection-from-the-sun-especially-important-for-kids-1404750610
2. http://www.aao.org/eye-health/tips-prevention/injuries-children
3. http://www.skincancer.org/prevention/sun-protection/for-your-eyes/the-eyelids-highly-susceptible-to-skin-cancer
4. http://www.fryface.com/node/416
5. http://americanfamilymagazine.com/wp/summer-months-damage-childrens-eyes/